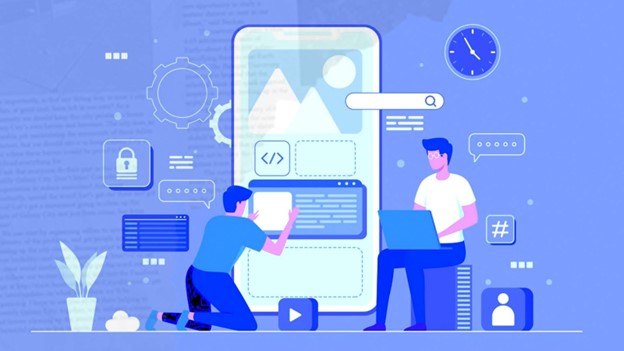 No-Code vs. Low-Code: Which is Better for You?
Introduction
Applications designed for enterprise are capable of handling tasks across multiple devices, departments and timezones. These applications have resulted in significant gains in productivity, new income streams and better services for users. However, as the capabilities of these applications grow, so does the difficulty of building and maintaining them.
For the digital technology to serve businesses successfully, advancements in coding capabilities have to keep pace with the growing complexity of enterprise systems. Recently, development times and costs have been steadily rising. Enterprises can either increase their software development budget or look for cutting edge coding solutions to circumvent the problem. Low-code and No-code are the latest in the coding technology lineup.
Both low-code and no-code were developed to replace hand-coding with visual elements, so developers could focus more on developing business logic and improving user experience. 
What is Low-Code?
Low-code development tools were introduced in the early 2000s to perform recurring coding tasks. Low-code works by inserting repeatable scripts into specific parts of the platform. Some low-code tools have a drag-and-drop functionality, but hand-coding is still necessary for complex functionality. Low-code has helped make repeatable processes more efficient but has not been able to overcome all the development challenges.
What is No-Code?
No-code platforms are all-in-one cloud-based development platforms that completely eliminate the need for coding. With No-Code platforms, you can easily develop full scale business applications without the need for programming. This allows businesses to free up resources from coding and instead focus on the processes and user experience.
Differences Between Low-Code and No-Code
The table below illustrates the differences between Low-Code and No-Code:
| | |
| --- | --- |
| Low-Code | No-Code |
| Is a tool | Is a platform |
| Is for coders | Is for coders, SMEs, Executives and Business Teams |
| Is faster than hand-coding but slower than No-code | Is the fastest way to develop applications |
| Still requires building with code | Allows businesses to focus their attention on delivering value |
| Was well suited to the state of technology in the 2000s | Is designed for current and future technologies, such as mobile, IoT and AI. |
Enterprise Customization Landscape
Custom software has become an integral part of the modern enterprise. Although ready-to-use software products have evolved continuously, these are no match for the configurability of a custom-built solution. Custom digital solutions allow businesses to differentiate their products and services to gain an advantage over the competition. But developing a custom solution takes a lot of time and effort to develop, especially when using code-based development methodologies.
A Brief History of Enterprise Software Development
Between the years 1980 and 2010, the average development time for custom enterprise software steadily declined because of better development strategies, re-use of code, and increase in overall enterprise efficiency. But, the trend revered in the last decade, with average development time increasing at an accelerated pace. This is due to increasing complexity and expiring legacy systems.
The prevalent language in the 1980s was COBOL. It was difficult to use, because of which, many projects failed to launch or malfunctioned. In the 1990s, new development methodologies, such as Rapid Application Development (RAD), were developed and higher-level easier-to-use programming languages, such as Java, joined the programming languages suite available to enterprise software developers. As a result, applications became more useful and development time decreased.
In the 2000s, Java became the dominant language. Other innovations included the development of frameworks such as Spring, Integrated Development Environments (IDEs) and low-code platforms such as Appian, Mendix and Outsystems.
Then, in the 2010s, low-code platforms and frameworks continue to evolve, while higher-level languages like Python were introduced. New methodologies like Agile were adopted. But, in spite of all this, the average software development time increased by 20%.
Why Look for Better Ways to Code?
While businesses expect software development to keep pace with the economy, digital service providers look for ways to provide a robust digital response to marketplace disruptions of any scale. The ability to build robust applications quickly is a fundamental requirement for digital resilience, an important competitive advantage in today's business world. An increase in software complexity is expected, but development technologies have not kept pace with this growth. As a result, development budgets are increasing, backlogs are growing and projects are failing to meet deadlines.
How to Choose the Right Platform?
When choosing a No-Code Platform, the following factors should be considered:
Do you want to develop a mobile app, web application or both? Some platforms are more suited for creating mobile applications while others are better with web applications. If you want to develop both apps or want to switch focus in the future, you are better off with a platform with a broad range of capabilities so you don't have to change platforms in the future.

Determine if the platform provides all the building blocks that you will need to develop your application.

Is the platform easy to use? Is there an active community online that you can reach out to for help? Does the platform provide enough educational resources? If yes, how easy or expensive is it to avail those resources, etc.

Does the platform support inbound and outbound integrations to the sources from where you plan to receive data and other third party platforms you may plan to integrate with your application?

Does the platform provide test environments, especially in the cloud? Are test environments easy to deploy to standard cloud providers like AWS, Azure, or Google? If it is a Mobile app, can it be easily published to Google Play Store or Apple App Store?

Ensure that the platform is secure and you completely trust the company that owns it. If you have any restrictions regarding where the data gets stored, ask where the company stores its data. Look into security features available, including multi-factor authentication, data encryption and SSL/TLS certificates.

Consider the cost. Think about your future plans and usage. How many users will be using the platform? How long will you be using the platform for? Asking such questions will help you determine whether the plans the platform offers are a good fit for you or not.

Carefully investigate the company. Look for reviews on trustpilot. Ask around. See what kind of customers the company already has. If possible, reach out to one of these customers to find out how their experience was with the platform.

If you decide to switch the platform in the future, will you be able to get your data out without too much hassle?
Can Anyone Develop Applications Using No-Code Platforms?
Theoretically, yes. But, there is more to developing an application than simply knowing how to code or, in this case, use a No-Code platform. Here are some of the skills (other than programming skills) that are required for No-Code application development:
An in depth understanding of the customer journey;

Able to anticipate future business opportunities;

Able to translate organizational needs into viable solutions;

Confidence to propose alternative solutions and guide clients towards it;

Experience in business consulting;

Experience in business process modeling.
How to Use No-Code in Your Organization
No-Code may make the development process faster and simpler, but it does not decrease the complexity of the business itself. No-Code is not an answer to everything; it is only a very efficient and easy to use tool. But, to fully unleash the potential of a No-Code platform, the entire development process has to be revisited. For hand-coding, the business owner provides the developer with requirements, but with No-Code, the business owner can collaborate with the No-Code developer and sit with him/her to jointly develop a solution. New ideas can be implemented immediately. But all this is possible, only, if the developer understands No-Code well and has a deep understanding of the business, as well as great customer engagement skills.
Pitfalls and Roadblocks in the No-Code Journey
Here are some of the businesses' most frequently encountered difficulties during No-Code development:
Management needs to be convinced since your company will undergo a change in the way it pays for its IT needs. Instead of paying an IT team, you will be paying for the No-Code platform subscription;

Incumbent IT people may see No-Code as a threat, so there may be a push back;

With hand-coding, it is the software development that lags behind. But with No-Code, development may progress faster than expected and there may be a delay in the approval process;

Fitting No-Code application within the existing landscape may be a challenge in the absence of a clear strategy;
Do You Still Need External Help With No-Code?
Although programming is no longer needed on No-Code platforms, a No-Code practitioner still requires proper training and experience for successful adaptation. Not only can non-IT personale fail at delivering success through No-Code, but, also, developers who approach No-Code in the traditional way can fail to realize projects. If your company has decided to go the No-Code route but does not have the resources, it is prudent to hire an external No-Code consultant. You can also go for the hybrid approach where you hire an external consultant who starts the project while an employee gets trained by him/her. At the right time, you can switch from hiring external consultants to training people internally.
Why Choose Croyten?
You may be wondering why we are promoting No-Code when the self-sufficiency it promises businesses can mean less business for us as an Enterprise Digital Technology Partner. There are a number of reasons for this stance. Firstly, as a company, we have always tried to stay one step ahead of the technology curve. We vouch for No-Code because it is the way forward for Enterprise Digital Transformation. Secondly, we see ourselves not only as service providers, but as technology partners; a partnership with us means more than just hiring software developers. As your technology partner, we accompany you on your digital transformation journey every step of the way and strive to help you embed the best digital solutions for your business needs. Finally, there is more to No-Code application development than meets the eye. You may be able to operate a No-Code platform, but for developing an application that meets all your business requirements, you need a deep understanding of the existing cloud ecosystem, third party integrations and a knowledge of where digital technology is headed. If you are interested in learning more about our No-Code Consulting Services call us at 6174776888 or email us at information@croyten.com.