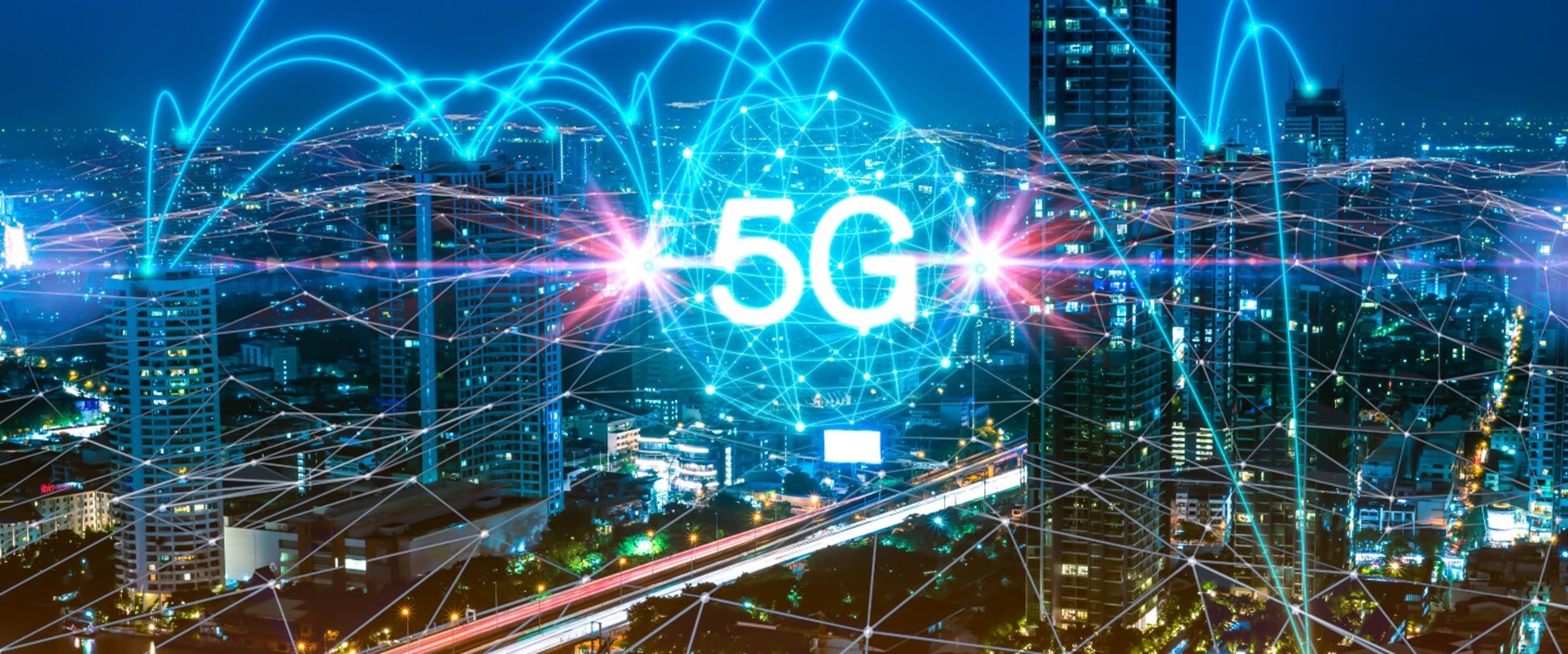 How Advanced Connectivity is Transforming Businesses
The Promise of Connectivity
Connectivity impacts individuals, businesses and governments in a myriad of ways. The internet enables businesses to expand their customer base, improve efficiency, reduce transaction costs and integrate global value chains. Connectivity also provides businesses with access to online resources for upskilling, as well as enabling remote work and providing access to a larger talent pool. By increasing productivity and leading innovation, internet connectivity creates jobs and drives economic growth. According to an ITU study published in 2018, a mere 1% increase in fixed broadband penetration increases gross domestic product (GDP) in a country by 0.08%, while a 1% increase in mobile broadband penetration increases GDP by 0.15%1.
How Advanced Connectivity is Evolving
Advanced connectivity is transforming businesses by supporting digital solutions that will increase business outreach, data throughput and spectrum efficiency, while reducing latency and energy consumption. This is opening up new ways for businesses to connect with consumers and unlocking new business opportunities. These technologies fall into three categories: fixed, terrestrial wireless, and non-terrestrial wireless.
An optical fiber is an example of a fixed connectivity technology. It is a physical wire that provides a reliable connection with high throughput and low latency.
The terrestrial wireless technologies include low-power wide-area (LPWA) networks, Wi-Fi 6 and 5G/6G cellular. LPWA networks offer wide coverage and support a high number of connected devices, like narrow-bandwidth Internet of Things (NR-InT), LTE-M, LoRa and Sigfox. Wi-Fi 6 is the next-generation of Wifi, also called industrial Wi-Fi, that offers a higher throughput, more control and better security. 5G/6G is the next-generation cellular network with a higher-spectrum efficiency that provides a higher bandwidth and lower latency.
Low-Earth-orbit satellite (LEO) constellations are an example of non-terrestrial wireless. The positioning of the satellites in the lower orbit allows for wider area coverage with significantly reduced latency.
How Advanced Connectivity is Impacting Other Technologies
Improved connectivity is an enabler for new technologies. 5G, Wi-Fi 6 and LPWAN are essential for IoT applications, AR/VR, cloud gaming and edge and cloud computing. Automated guided vehicles perform better when connected over private 5G
How Advanced Connectivity is Transforming Businesses
Advanced connectivity is going to be a game changer as the value chain and ecosystem continue to evolve. As these technologies become more commonplace, industries will acquire new capabilities and find new monetization opportunities. With 5G-enabled premium connectivity and B2B use cases, the telecommunications industry stands to make a significant increase in their overall revenue. The number of connected devices is projected to increase from 43 billion in 2020 to 51.9 billion in 2025. These devices will produce a staggering amount of data. As global data creation continues to increase exponentially, there will be a need for higher-bandwidth networks.
Here are the impacts advanced connectivity is having on various businesses:
Preventive maintenance

Improved navigation

Prevention of accidents

Carpooling

Personalized infotainment
Monitoring patients at home in real time
Improved capabilities

Improved performance
Inventory management

Improved warehousing operations

Coordination of supply chains

Elimination of checkout counters

Augmented reality for better product information
Introduction of new B2B service offerings

Improved cellular services for retail customers

Private 5G solutions for enterprise customers
Aviation, Travel and Logistics
Tracking and tracing of products

Optimization of supply chains
Construction and Building Materials
Building information modeling (BIM)

Onsite 3D printing

AR applications
Information Technology and Electronics
Improved connectivity

Reduced costs
New value-creating entertainment experiences

Less disruptions
Smart mining

Enhanced productivity

Improved safety
Electric Power, Natural Gas and Utilities
Smart utility grids

Smart meters
Real-time monitoring of drilling and production

Monitoring of digital tools and analytics by offshore operators
Use Cases of Advanced Connectivity for Businesses
Workplace Communication

Faster transfer of files from cloud

Remote document sharing

Messaging

Internet Access

IT Administration

Remote troubleshooting

Remote server management

Advance Collaboration Tools

Mobile video conferencing

AR/VR/3D experiences

Remote workplaces

Network Management

Software-defined WAN

Network slicing

Advanced Analytics
Advanced Analytics

Insights on sensor-generated data

Edge computing

Automation

Autonomous vehicles

Remote controlled robots/drones

Delivery robots

Asset Tracking

Inventory management

Sensors in containers/machines/goods

Geofencing

Smart contracts

Blockchain

Machine-to-Machine Communication

Vehicle communication

Assembly and production line

Remote Monitoring/Control

Video surveillance

Connected assembly lines

Telemedicine
Advanced Analytics

Data of shopping patterns

Data of shoppers' movement on the floor

Insights on pricing

Geofencing-based notifications

Security and Fraud Prevention

Biometric checks

Geolocation transactions

Smart contracts

Blockchain

Advanced Customer Experiences

Cloud-based mobile apps

Autonomous stores

Immersive AR/VR/3D features

Entertainment

Video-based checkups

Asset Tracking

IoT sensors

RFID tracks

Geofencing

Fleet management

Smart contracts

Blockchain

Automation

Restocking shelves

Delivery robots

Robot-assisted surgeries
The Future of Advanced Connectivity Enabled Businesses
Some industries have adopted the new technology earlier than the rest; predictably, these industries are the ones that depend heavily on connectivity, like telecommunications and logistics. The industries that stand to benefit the most from advanced connectivity include telecommunications, automotive and assembly, aviation and logistics, and healthcare. Telecom companies are already using advanced connectivity to offer new B2B services to retail customers and private 5G solutions to enterprises. Automotive industry will step up in the near future to introduce self-driven and interconnected vehicles. The logistics industry will provide trackable products to optimize customer supply chains. Connectivity will revolutionize the healthcare sector by making AI-powered diagnosis possible for chronic diseases using data from patients collected through connected medical devices while they continue to carry on with normal life at home.
Businesses That Have Already Leveraged Advanced Connectivity
Leading companies across industries have already leveraged advanced connectivity to move ahead of competitors. These include:
Volkswagen

: replaced wired connections between machinery with wi-fi connections over a 5G private network in their Dresden based factory. They have also connected unmanned vehicles through edge cloud computing.
Mercedes-Benz

: set up 5G in its factory number 56 to help data linking and product tracking on assembly line and to quickly adapt to process-to-market requirements.
Lufthansa Technik

: deployed private 5G campus network at its base at Hamburg airport to carry out AR/VR-based inspection of aircraft fuselage.
Verizon

: deployed 5G private networks in NFL stadiums to allow spectators to access real-time stats and data in AR and the feed of up to 7 camera angles simultaneously through the 5G multiview offering.
Bosch

: deployed 5G private network in their factory in 2020 to enable autonomous transportation and to interconnected robots to facilitate human factory works and adjust according to the human workforce in real time.
Michelin

: leverage LPWAN in 2019  to enable real-time on-sea inventory management, increase estimated time of arrival (ETA) accuracy, and decrease delays due to unforeseen circumstances.
Samsung

: Deployed a 5G testbed at its Austin factory to support extended reality capabilities in employee training and utilization of sensors to monitor equipment.
Omron

: Initiated joint field trials for 5 network  at its production sites to establish feasibility of layout-free
Hitachi

: Installed a dedicated 5G network at its Silicon Valley Research Center to develop collaborative robotic systems for flexible manufacturing production lines.
Ford:

Deployed a 5G private network at its electric vehicle production side in the UK to speed up electric battery production, reduce operational delays and improve productivity.
Potential Risks and Uncertainties
As connectivity ecosystems evolve, there will be a need for solutions and services that will allow businesses to profit from this technology, but, right now, there are not many companies out there offering the same. Also, being a new technology, digital solutions to support it are costing more to develop, giving businesses a low ROI. Some technologies, such as private 5G, also require a big investment to launch, which makes them too expensive for smaller companies.
As the scope of advanced connectivity increases, there are also rising concerns about privacy, cybersecurity. Personal data has to be protected through privacy and data protection regulations, while governments have to enable access to private information for law enforcement agencies to counter terrorism and money laundering. This tension leads to difficult debates about striking the right balance between privacy and access.
Security for Private 5G Networks
The new security concerns that arise with the adoption of advanced connectivity require organizations to reassess their security management programs. Being a new technology, most consulting firms/integrators have not yet developed solutions or publicized offerings for private 5G networks. Croyten has stayed one step ahead of the competition by starting work on a 'zero trust architecture' specifically designed for private 5G networks after receiving a heads up from our R&D team. Our 'zero trust architecture' constantly monitors the network and authenticates users to detect and eliminate unauthorized access. If you are thinking of deploying a private 5G/6G network but have security concerns, call us at 6174776888 or email us at information@croyten.com to discuss them with our consultants to find out how Croyten can protect your network with fool proof security.